We were recently approached by a friend to try out baby products and share our thoughts through reviews. I thought it could be fun and useful to other parents with and without disabilities. When talking with other parents, I've learned that what gives us (Wheeler Mom & Wheeler Dad!) headaches related to baby gear and baby care often does the same thing for people without disabilities-just to a lesser extent. So when we find a product that makes life easier, our able-bodied friends and family members usually agree! Our first product was the Fisher-Price EZ Bundle. I'll post the link to the review site as soon as we're published, but I thought I'd share a rather hilarious picture from the event.
Here's Wheeler Dad, who for reasons unknown felt it mandatory to hold one of our remaining "It's a Girl" cigars unlit in his mouth while constructing the baby equipment. You'll also see Obie running amok and Hannah looking on from the tranquility of her swing….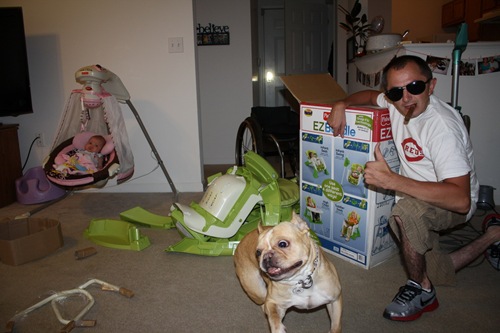 We really enjoyed the experience so you might see more reviews in the future.