Hannah loves elephants. Or maybe more accurately, I love them for her. One of my dumbest baby purchases was an elephant sleeper that she was only small enough for her to wear a couple time. I crammed the poor girl in the
thing…because of the elephants (and the cute ruffles on the butt)! Our friend Jess, a fellow OIer, sent her an adorable elephant and it watches over Hannah from the foot of her bassinet. My connection to elephants has a secret twist. It originates from the GIANT (but unspoken) elephant that sometimes occupies whatever room or space Hannah and I are visiting.
The elephant's been visiting me long before Hannah joined me-in the concerned look of strangers who'd say, "Congratulations!" with their mouth but something completely different with their face. In the worries of a few family members who'd ask every question BUT the one they wanted the answer to the most, "Does she have it too?" Some people acknowledge the elephant-even if briefly. My nearly 90-year-old grandmother's* first response to my "I'm pregnant" announcement was a quiet statement more to herself, "I hope it doesn't get that OI in it." She never spoke of it again, but I do admire her honesty in stating the worry.
There are lighter moments though. The sometimes ridiculous nature of strangers has given me the opportunity to laugh at the elephant a few times. When my mom and I accompanied Hannah to an ultrasound to check out her hips a couple weeks after her birth, the receptionist just kept repeating, "She's SO healthy….." "She's SO healthy…." I eventually started wondering if maybe she thought we were there for the Urgent Care Clinic located next door. So I said, "Oh-she's not sick. We're just here to make sure her hips are ok." She continued, "But she's so healthy!?" I really think the woman would have been less astonished if Hannah had sprouted a unicorn horn from her head at that very moment.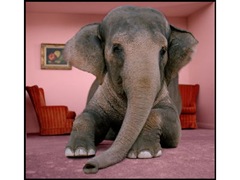 The elephant popped out again yesterday as I ventured to Kohl's for some back-to-work shopping for me. The woman checking us out asked the obligatory baby questions, "What's her name? How old? etc. etc." and then she said, "Wow-she's SO big. She must have been SO big for your belly………" She then paused waiting for me to explain that of course I hadn't actually given birth to Hannah. She must've been delivered by gnomes. Sometimes I let these awkward moments continue and other times I save the person with an explanation to the obvious question that the person's not brave enough to ask. I let this woman simmer until FINALLY she said, "So did you have her the traditional way?" Because I don't generally discuss such details with checkout staff, I said, "Yep."
It's not only strangers. I've also experienced another person with Osteogenesis Imperfecta ask me, "Did you make her the old-fashioned way?" As opposed to the new modern baby-makin approach!? Most of the time, I do have to smile. Our elephant is a jokester. Sometimes it can hurt though because OI or not, my Hannah is PERFECT. She's amazing and even if she had that unicorn horn, I'd see nothing in the world "wrong" with her. I never want the giant elephant's shadow to block any piece of her awesomeness. While these people's minds are boggled that she's healthy and happy, it's frustrating that they don't realize that kids with disabilities are too.
Our elephant's amazing versatile too. There's really no place he won't go. He also shows up online, mostly through questions asked via private message but a few early photo comments to her pictures would have been more accurately worded as, "So does she or does she not have OI?" The truth is: I haven't kept it a secret. But I also haven't made enormous announcements as if it's THE most important tidbit to be known about Hannah….because it's not.
I can't always effectively tell the elephant to scram. He represents our world's continued insecurities with even talking about some things related to disability. In my own little corner of the web though, I can do my best. It's an understandable and fair question, especially given the high likelihood that Hannah would have OI. There's nothing wrong with wondering. It's only bothersome when it feels like a giant looming question about something that is shameful.
Answering the Elephant
From as early as my very first few ultrasounds to as recent as today, Hannah shows no signs of Osteogenesis Imperfecta. She's above average on all her growth charts, has no bowing, and no fractures. We know from genetic testing that she does not have WheelerDad's Type IV OI. Testing for my Type V OI though was inconclusive. Type V is very rare and the gene thought to cause it hasn't yet been identified. Because children with OI can inherit a vastly different severity of the condition from their parents, there's a minimal chance that Hannah could potentially have an exceptionally mild case of OI. For that reason, she's still monitored by the OI Clinic located in our Children's Hospital. We've refused a bone biopsy because I see no reason for an invasive and painful test with no benefits. In a couple years, we'll be able to x-ray her arms to see if she has the arm bowing that's characteristic of Type V. It is sometimes difficult not to know with 100% certainty. The question, "Has she fractured?" crossed my mind when she cried a couple weeks ago after her shots. I know all new parents have worries though. Ours just have a distinctive flavor. Our plan is to watch, but not wait. With or without OI, she's enjoying the love of the OI community. It's a healthy challenge to learn to be at ease with uncertainty. When she looks back at her story someday, I hope she interprets the elephant as a sign that we have always fully accepted and entirely loved her with OR without a disability.